As part of the mobile design team,

I worked as a UX Designer,

together with my colleague Nicole Hammonds - UI Designer, Paul Evert

s

- Product Owner, and the Levi9 development team, from Serbia.
The purpose of the app is to

enable electric vehicle adoption

by providing

a smooth & seamless experience to the EV Drivers.

 
Our external north star is the

app rating

, in the following countries

: Austria, Belgium, Denmark, Finland, France, Germany, Iceland, Ireland, Italy, Luxembourg, Netherlands, Norway, Poland, Portugal, Serbia, Spain, Sweden, Switzerland, UK.
Important to keep in mind: the app is white-labeled, so you will find it in the stores under the client name. 
The
main intention
of the driver while using the app is
to charge their car.
Hence, the most important flows are: find a charging station, start/stop transaction a public charging session, start/stop a private charging session.
For the sake of this use case, I will showcase my process by focusing on start/stop transactions flow. 
1. I booked the office pool EV car and I went onsite
to test the apps of our competitors
and
to understand the main pain points
.


It turned out that one of the

main pain points

was that for all of the apps, you had to have an account in order to charge your car. So we saw this as an opportunity and decided to offer charging without creating an account to our drivers.
2. I started to do research and to understand the

user persona

- EV Driver
Two main profiles were identified: the power user (the early adoptor) and the normal user (available on request as they contain confidential information).
3. Based on the known technical constraints, I started sketching the

user flows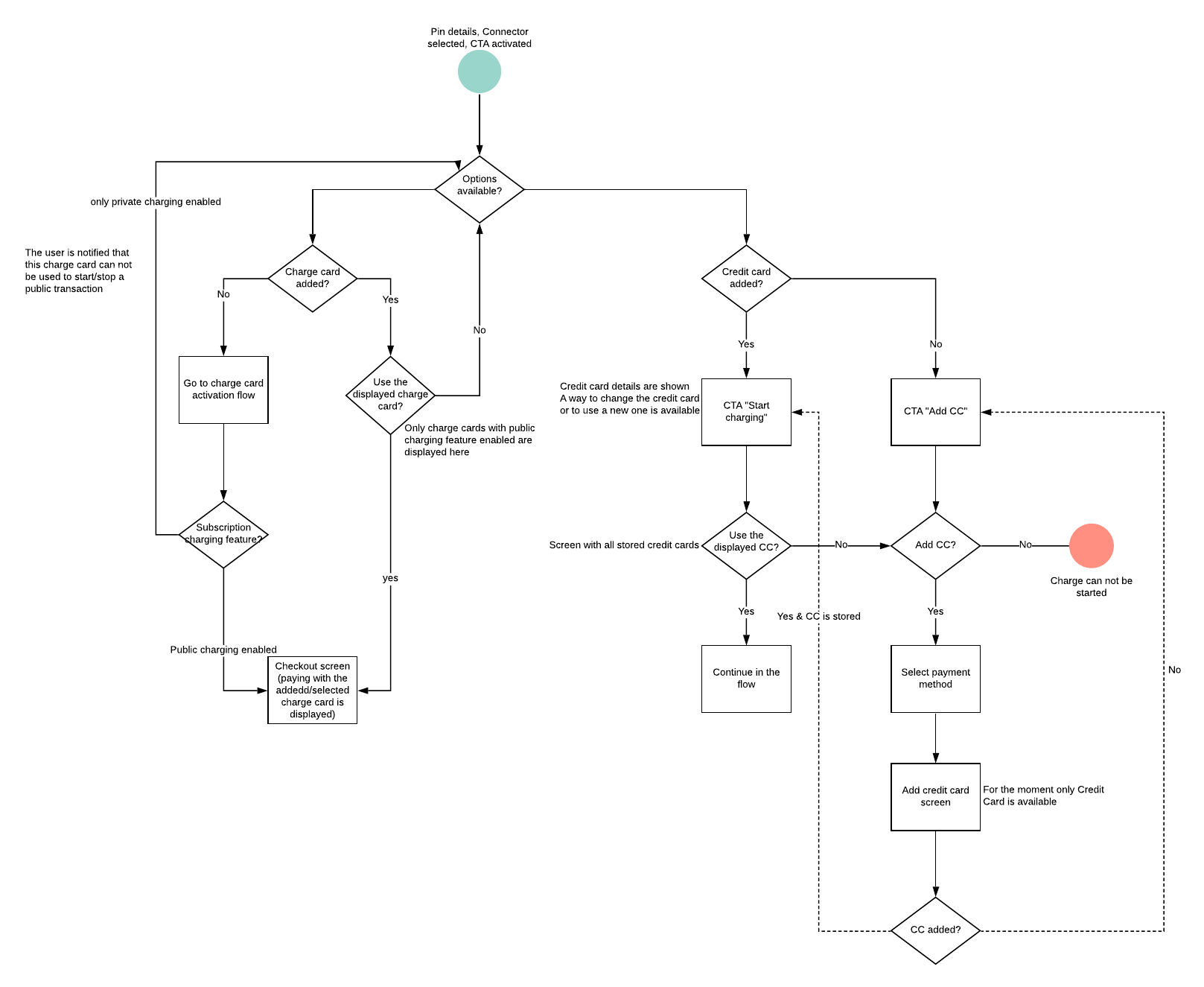 4. Based on the user flows, I started sketching the

wireframes
Already at this stage, I started showing this to friends and colleagues who were not involved in the project in order to collect feedback as early as possible.
5. Once the first designs were ready, Nicole (UI Designer and I) scheduled a round of interview where the entire mobile team was involved, in order to build empathy with the user and with their pain points. 
We continue iterating based on the feedback, and this was the final result.